Switch On Series
AUD $935.00
Add to Cart

Synopsis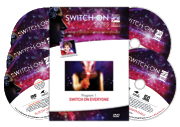 The SWITCH ON SERIES has been created by psychologist Eve Ash to help people identify and change negative thinking patterns. Each program is short with a unique tempo and style, great graphics and music… and no voices!

The SWITCH ON SERIES uses a simple approach based on the notion of 'scripts' or 'messages' in our head that help us or hinder us at work. It shows a range of typical thinking patterns that underpin the actions and work that people do. It shows how negative messages can be transformed with a proactive approach to: SWITCH ON POSITIVE MESSAGES! Culture is changed when thoughts become actions and this is the vital link to positively change a workplace culture and the style of communication.
SWITCH ON SERIES

Switch on Everyone
Show all levels in all businesses that positive attitudes make a difference.

Switch on Respect
Ideal for attitudinal and diversity training to ensure people are open.

Switch on Service
Deliver quality service – internally or externally, face-to-face or on the phone.

Switch on Assertiveness
Everyone needs to be assertive, not aggressive or non-assertive.

Switch on Caring
For health care professionals, managers and service staff.
Switch on Mangers
Unearths the negative thinking that can lead to disempowerment.
Switch on Staff
Improved confidence, persistence and more effective communication skills.
To buy the WHOLE SERIES, click on the shopping cart above (no need to add individual titles to your cart). This series contains the following titles
Switch On - Assertiveness
SWITCH ON ASSERTIVENESS is aimed at helping everyone communicate effectively and assertively, respecting other people...
More...
Switch On - Caring
SWITCH ON CARING is aimed at service staff, health care professionals and helpers in a wide range of industries. It i...
More...
Switch On - Everyone
This program provides the stimulus for everyone to re-evaluate their own thinking patterns and behaviors. It will hel...
More...
Switch On - Managers
Managers need to lead by example and this program unearths the negative thinking that can lead to disempowerment. ...
More...
Switch On - Respect
SWITCH ON RESPECT is aimed at helping everyone at all levels to maintain a respectful non-judgmental attitude. It...
More...
Switch On - Service
SWITCH ON SERVICE is aimed at developing and maintaining positive service attitudes in all staff that provide service...
More...
Testimonials
"I loved it and see many possibilities for its use."
"The messages are great and it's great to see that they're from all different perspectives (employee and employer). I think it's important for both sides to see what the other goes through which might also help dispel negative connotations about each other in the workplace."
"Good tips throughout the video."
"I loved the images that went with the comments – all the negative ideas were things I could identify with in my own mind."
"I like the concept – and found the shift from still shots to movement a nice touch."
"Can be used to stimulate discussion in our Front Line Management Course where people raise these very issues."
"Like the way the background music varied according to the message transmitted."
"Empowers people."
"Identifies real issues (negatives) that affect us at work today."
"The positives are valid and realistic ways to address the negatives."
"Innovative way to get the message across."
"The negative/positive comparison thoughts work well because you can see straight away how you can turn your negative thoughts around to a positive one. "
"The visuals are good and very direct - all the messages are accurate and very clear."
"I am a very visual person so I like this format. As with all learning aids there still needs to be facilitated discussion around the messages - but it would enable me to cut through some of the
rhetoric or theory and go straight to strategy."
"I especially liked how it ended with the 'ripple effect' of how your energy affects everyone around you (whether it's positive or negative) and that's an important point to remember. "
"I ran the "Switch On" series on TV screens in my call center giving the Agents great visual messages during their shifts. This series is an excellent tool to reinforce the "soft" skills required in a call center without the hard sell of a classroom or 1-on-1 training. The Agents reflected the messages that were playing in their behavior; it was amazing to watch!"
Jan Durrans, SVP, BofI Federal Bank
Recommended Audiences
Distributed in the following format(s)
Available in the following language(s)
Media Type
Video Recording
Presentation Style
Closed Captions
Yes
PUBLISHED
Melbourne Australia
FILMING LOCATION
Melbourne Australia
COPYRIGHT OWNER
Seven Dimensions
PUBLISHER
Seven Dimensions