Difficult People and Situations Series
AUD $1,452.00
Add to Cart

Synopsis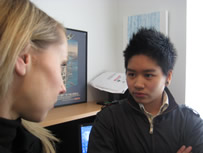 A series of 4 outstanding dramatized DVDs - a must for every business!

Download Difficult People and Situations Flyer
Excellent case studies to help develop effective communication and leadership skills. Covers:
Open communication, conflict resolution, and teamwork.
Leadership, feedback and problem solving
Diversity, bullying and sexual harassment
Customer service, managing complaints and quality assurance
Ideal for managers, teams and staff at all levels.
Created by Psychologist Eve Ash
To buy the WHOLE SERIES, click on the shopping cart above (no need to add individual titles to your cart). This series contains the following titles
Bullying and Harassment
Bullying, harassment and especially sexual harassment is unacceptable in any workplace. But many people don't r...
More...
Damage Control
An excellent case study of a major product delivery disaster and a very angry client - all superbly managed by the accou...
More...
Leadership Sins
Leadership requires awareness, open communication and the ability to empower others. David makes several mistakes mana...
More...
Package Description
The series contains the set of 4 DVDs. Each DVD comes with a workbook with activities, handouts and a full script.
Recommended Audiences
Personal Use
Youth
All staff
Managers
Distributed in the following format(s)
Available in the following language(s)
Media Type
Video Recording
Presentation Style
Closed Captions
Yes
FILMING LOCATION
Melbourne
COPYRIGHT OWNER
Seven Dimensions
PUBLISHER
Seven Dimensions